4 BOXES (8 ROLLS) 4 Ea. P&D US MINT BISON 5c ORIGINAL/SEALED BOXED SETS 4U8 NIBs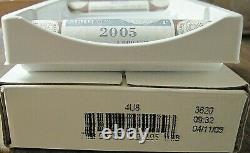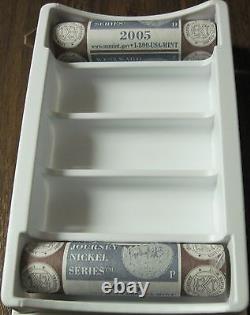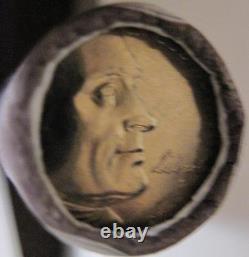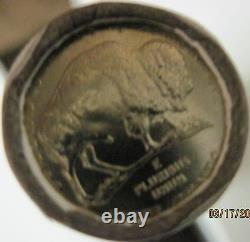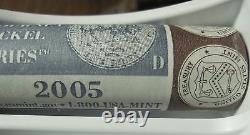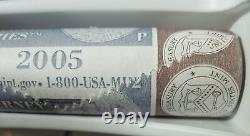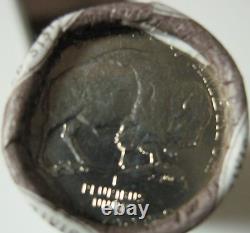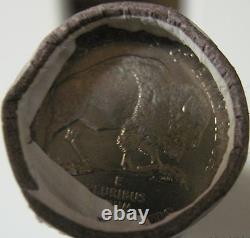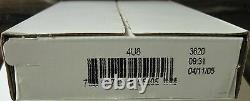 4 BOXES (8 ROLLS) 4 Ea. P&D US MINT BISON 5c ORIGINAL/SEALED BOXED SETS 4U8 NIBs!
These 17 Year Old Box Sets came straight from the US MINT and are NIB (New In Box) condition. These dates of issue coincide with the 2005 Bison Nickels that often contained various error/varieties including the now famous dramatic die gouge known as the "SPEARED BISON" and "BROKEN TOMAHAWK" but also numerous others. The rolls are tightly sealed in specially designed mint paper OMW (Original Mint Wrapped) and were placed in plastic sorting trays, all then sealed as a P (Philadelphia Mint) and a D (Denver Mint) roll from each mint ROLL SET inside a hard cardboard outer SEALED box, all 320 coins in this lot. This outer box is then Time/Date stamped by the Mint and designated with their internal inventory number of 4U8 which designates that the box contains the 2005 Bison 5c Nickel (2) roll set.
The 2005 nickel 5c metal composition remains the same as prior issues which contains nickel alloy consisting of 25 percent nickel and 75 percent copper. The sets offered here are collectible either in their unopened entirety, as individual unopened specially wrapped rolls, and even as individual uncirculated coins, if properly packaged and stored. We have opened one sealed box in order to photograph the contents and as I write this, decided to open the two rolls themselves to search the coins and try out the sorting tray -- these we will keep and/or sell as single coins. We note that the Denver roll is Head/Tail and the Philadelphia roll is Tail/Tail -- this can be any combination at the luck of the draw if you decide to open your sealed box. Errors or varieties are also at random and each roll may or may not contain such. As to the box we opened for the pics, randomly, the first roll grabbed was the P roll and the first coin searched shows slight strike doubling on both Obverse and Reverse. The lower S of states has a blob of extra metal not unlike some of the older filled mint-mark varieties and often caused by die chips or breaks. There are extra trail-mark striations on the lower area between the Bison's two front legs, behind the rear front leg, and below UNUM and CENTS, possibly and in my opinion likely a minor reverse doubled die. All of the coins are nice brilliant uncirculated and appear to be developing an attractive fairly even edge toward center medium to light toning patina -- end of roll coins are fully and nicely yellowish toned on the exposed side.
Third coin same as the first. Couple later coins show the striations but without the filled lower S per above and many if not most were produced from the same die after it was cleaned up by mint personnel, having had the striations removed from the die. Opening the Denver Mint roll, the first coin has a similar extra metal die chip blob on the upper inner second 0 of the date. All coins are noticeably more brilliant and in better overall condition than the Philadelphia Mint roll. Several coin reverses are immaculate so it is possible there could be one or more certifiable higher mint state examples here, depending upon grade of obverse of the same coin as well.
Couple of coins have fingerprints from mint personnel -- besides being unsightly, the problem is that the chemicals in the oils of our skin can damage the surface of a coin over time, but this is only important to those who collect them and not to those who spend them. Found three more identical die chips but the balance of roll is unremarkable, although I went through these rather quick with my older eyes so it is possible I could have missed something -- we usually go through fresh coins 2-3 times to be sure. Your experience may be better or worse as it is kind of like a lottery which may or may not bring you a surprise. If you have ever been to the mint and watched the coining machines, you noticed that each machine of many will generally kick out 2-3 coins per second for hours on end. Samples are regularly inspected for quality control, working dies are changed, replaced or corrected as needed, and equipment tolerances are regularly checked and/or adjusted so any serious collectible errors or varieties are minimized or eliminated, thus making the few that do get by scrutiny much scarcer, more collectible and more valuable (or went out the back door by personnel). One nickel has a strange mint-mark so it is set aside for further study and viewing under stronger magnification or the microscope. By and large the vast majority of millions, billions, and trillions of coins produced each year by the mints are bulk produced, generic, unremarkable and ready for commerce and spending, which is their primary production purpose.
The odds of locating BOTH of these in separate bags are phenomenal, yet we offer a few of these rare combo Error/Corrected sets with date of discovery and identifying info. Searching these coins with cotton gloves and a magnifying glass and/or microscope can be lots of exciting and satisfying fun for collectors, enthusiasts, and specialists alike. If you have any questions or need further pics, feel free to inquire and we will do our best to accommodate your request. If combining with other items from our store, inquire for the combined total and wait for our invoice after sale, so you don't inadvertently pay more than you need to.
This item is in the category "Coins & Paper Money\Coins: US\Nickels\Jefferson (1938-Now)". The seller is "rushcollectibles1" and is located in this country: US.
This item can be shipped to United States.
Modified Item: No
Country/Region of Manufacture: United States
Certification Number: Not Applicable/Mint Sealed
Coin: Jefferson
Certification: U. Mint
Strike Type: Business
Mint Location: Denver & Philadelphia
Grade: Original BU Mint Wrapped rolls
Unit of Sale: 4 NIB US Mint Box Sets As Issued (all sets herein are New In Box)
Year: 2005
Circulated/Uncirculated: Uncirculated
Composition: 25/75 Nickel Copper alloy
Denomination: 5C coins are 160 P mint & 160 D mint
KM Number: Multiple Roll Sets (KM# Not Applicable)

---