American Bison Leather Buffalo Muzzleloader Possibles Bag Us Made Free Shipping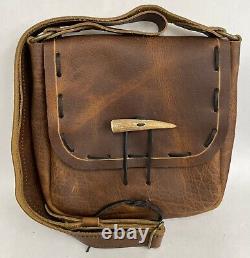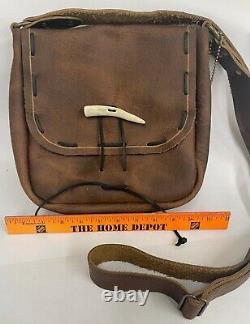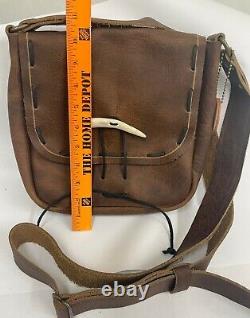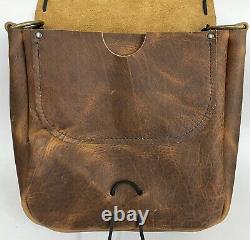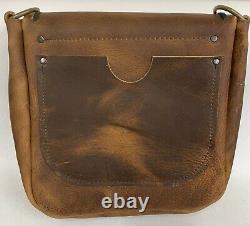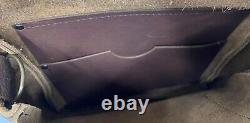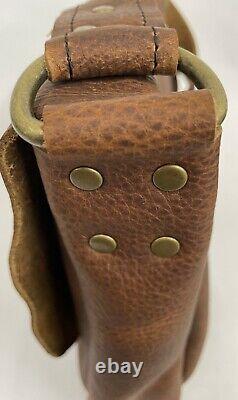 PLEASE REVIEW ALL PICTURES FOR FEATURES. RULER SHOWN IS 12 TO ILLUSTRATE SIZE OF BAG. Nothing says old west like Bison leather! Rustic with pronounced grain yet very soft, each piece will vary in grain, range marks, etc. This is a "pull up" type leather so it will develop its own color and characteristics with use! This is my DELUXE POSSIBLES BAG. SEWN TOGETHER WITH ROT RESISTANT NYLON THREAD AND RIVET REINFORCED AT THE STRESS POINTS. Deluxe Possibles Bag : Size interior all measurements are approx.
9.5"wide, 9.5"tall with a full wrap around 2.5 deep gusset. A a patch pocket on the back side of the bag that is for easy to get to items 6" X 8" b a patch pocket under the flap 5" X 8" c a brown cowhide pouch pocket inside of the bag that is 6" X 7".
Additionally it has 2 hidden d rings inside of the bag for clipping your keys to or a. Carabinersome people use it to slide a "ball starter in". This bag will hold a lot of gear! The bag has HD antiqued brass hardware and rivets with a 1.5" wide cross body strap that is fully adjustable up to 57+" in length! Real Antler tip enclosure (antlers will vary with each piece) Finally its trimmed with latigo leather lace around the flap. I answer my emails promptly! THANKS FOR LOOKING AT MY LISTING! Here are comments from some of my good customers. What more can i say about the quality of Chucks products. 5 possible bags later and they are all a work of art. And I hope to do more with you as well. I love this possibles bag! I looked at quite a few before deciding on this one, there are many good choices. This one is the perfect size with three pockets and a nice long adjustable strap that will be comfortable in the field. It is well made and I anticipate getting a lot of use out of it.

---