NEW Wild Montana Yellowstone Park Bison Buffalo Robe Hide Leather Native Antler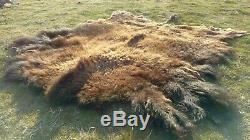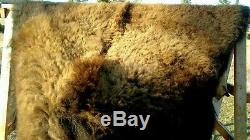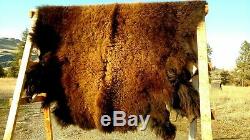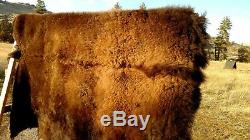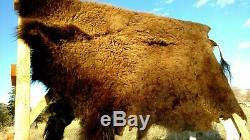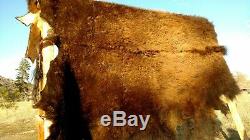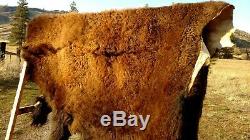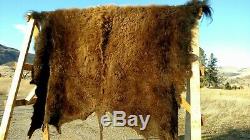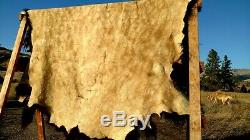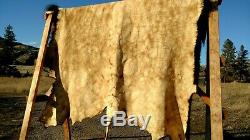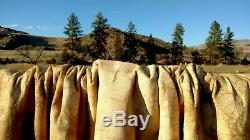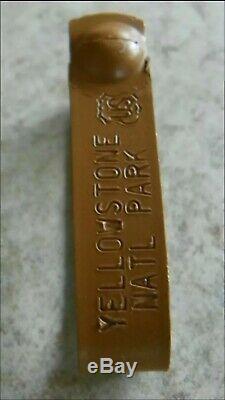 Need some positive medicine in your life? How about the best security blanket nature ever designed?
You are looking at the epitome of Handmade, Functional American Art. Every individual piece-Singular, Unique, and Authentic. Not only Majestic, Natural and Legendary, but useful too.
What better than a blanket consisting of the Nation's first Landmark mammal? Yes, a true historical symbol of the United States, the Bison joins the Bald Eagle, the national symbol since 1782, as Americas first and ONLY National Mammal. Not only could it add the Old West to your living room-but could double as the aphrodisiac your bedroom always longed for.
Many also believe there is Special Medicine in Bison robes, as if there is a unique spirit within the layers of leather and hair. Respect comes so naturally with these animals-no matter your origin. Here is your chance to own what was once the soul of our entire Nations peoples. There are two types of bison. After tanning literally thousands over the years, there really is no comparison between the two. I own and solely operate a small custom Bison Tannery out of Northwest Montana. I have been tanning for over 20 years, and Bison are my specialty.
Yellowstone Bison have thicker-more dense leather and much cleaner hair than domestic bison. When I tan these robes, I can't help but notice the Uniqueness in each pelt. Every one is truly different.
It only makes sense, they must be physically stronger and more enduring of the conditions. These animals are free roaming-and in no way domestic.
Grizzly Bears preying upon their calves in the spring, Wolves all the time, boiling Geysers, Tourists:, and the deep snow of winter ensure that these robes have incredible hair. Many also think the Yellowstone blood line is the purest in the world. When it comes to tanning, many never think about it, but you want a "fresh" dressing on your robe.
I actually finish these robes after the sale, just to ensure that you are getting a brand new/never touched/used product! You wouldn't want to cuddle in a strangers blankets would you? I care for each one as if it was going on my child's bed.
This robe was harvested near the end of January from a 3-4 year old bull-90% prime silky hair-from head to tail. These clean, near Mature- large wild bull robes are difficult to come by! Most hunters won't part with them. This bull carries the rare heavy chocolate/caramel color phase throughout-great example of a WILD Yellowstone Bull Robe! This bull is super chocolate-even though my sunset pictures make him look lighter.
This Blanket has been fully shampooed and tumbled in oak sawdust. Just staged into the final processing today-ready for a new home!! It measures 72"wide by 87"long(base of neck) which is around 44' sq ft total-quite large size. The leather on this bull turned out a very traditional darker golden shade- with great veining/spackle, and is soft and supple with nice suede-Nice leather!
Most Yellowstone robes you see will have numerous defects. This robe is near perfect as far as flaws go-super clean hair-very few flaws if any.
Please look at pictures closely. This is to ensure that you are receiving the freshest tan and finish available.
The moment you pay-I start the final tumbling/shampooing/trimming and brushing process. The second it's finished-it goes into a box to you. Clean, New, and ready to be loved. (please allow 3-5 days for finishing) Generally these animals are quickly skinned in the field by the hunter amidst snow storms and subzero temperatures. Cooling the meat is paramount, and skinning holes are very common.
This robe has just a few assorted medium/small skinning holes-which have ALL been hand sewn. If you are a bison robe snob, this just could be your boy- large amazing blanket. Lots and Lots of Time into this robe-literally months of my life-in steps. These robes have many uses, either for decoration or keeping you alive in a blizzard, there is something magical about owning one.
You can display this amongst the finest furniture in the most luxurious home, hang it over the banister in your rustic cabin, or roll it up and use it as a sleeping bag or emergency blanket to survive with. I always thought you would be one cool cat having one of my robes rolled up on the back of your Harley for a bed roll: In the winter months, I sleep with one as a top comforter on my bed. It seems to give me the most intense dreams when I sleep under it-honestly!
(maybe because it's so warm). I also will never go another Montana winter without my bison seat cover in my truck-toasty and comfy!
Although a bit morbid, it seems like its drawing popularity with my customers-the idea of using the robe throughout your life and then utilizing the robe as a burial blanket. Brings light to a dark situation-kinglike being wrapped up in such a magnificent blanket and placed in your casket. I offer a full buyback guarantee of all bison robes I sell. Instinctively-this is my only employment and I take it very seriously. Other Bison robes simply don't compare to Wild!
You will also notice I posted a pic of a genuine Yellowstone Bison Ear tag. One of a kind brand new Robe, Tanned on the banks of the Flathead river, on the the Flathead Indian Reservation- Made in Montana by a Native Montanan... This is all that I do, and my Integrity and Respect show in my work! Feel free to ask any questions that you may have. Sometimes it doesn't cost a fortune to own something that will last forever.
The item "NEW Wild Montana Yellowstone Park Bison Buffalo Robe Hide Leather Native Antler" is in sale since Saturday, March 21, 2020. This item is in the category "Crafts\Leathercrafts\Leather Hides & Fur Pelts".
The seller is "missionmountaintanning" and is located in Dixon, Montana. This item can be shipped to United States.
Brand: Wild
Non-Domestic Product: No
Modified Item: No
Model: Yellowstone
Animal Source: Buffalo
Type: Hair-On
Country/Region of Manufacture: United States
Leather Weight: varies per animal
Color: Natural
Custom Bundle: No
Type of Print: diamond spackle
Leather Thickness: varies per animal
Leather Cut: Whole Hide
Process/Finishing: Brushed
MPN: Does Not Apply

---