Perseverance Bison Wildlife Photograph Yellowstone National Park 2022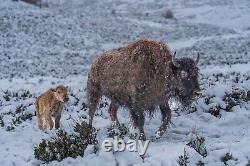 Photograph taken in Yellowstone National Park (Lamar Valley) during an early spring snow storm in 2022. Photo was taken one week prior to the 2022 spring flood that washed out roads and bridges throughout the park. Featuring vibrant color reproduction, remarkable definition. Metal Prints are the ideal accent for those who love to pore over the finer details.
We use a high-quality aluminum sheet that has been treated with a special coating that allows the ink to be infused directly into the metal surface. At only 1/16, this material is lightweight and extremely durable. Once your Metal Print is finished, durable display hardware is attached directly to the back of your print. Metal Print will include a Float Mount.

---