Scott Patton Art Buffalo Stampede Original Western American Bison Painting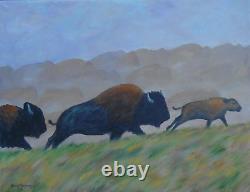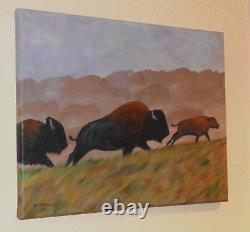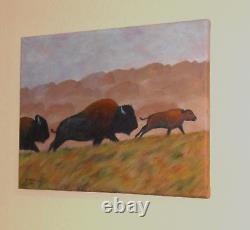 Origin al Acrylic on Canvas. A herd of American Bison race across the prairie amidst clouds of dust.
Total Dimensions: 14" x 11". This original acrylic painting has been extended to wrap around the canvas framework. This allows the piece to better merge with its room surroundings and not be confined visually by a frame. Hanging is made simple as well, as the canvas stretchers can simply rest on a nail or screw without the need for hanging wires. Scott Patton is a native Iowan who has won Best of Show and First Place awards in shows throughout the state.
He has won the Iowa Wildlife Federation's Belt Buckle contest four times and received the Honor Award from the Soil and Water Conservation Society. His work has been selected for the Indiana Outdoor Calendar and he has illustrated two books on plants and animals: "Learning from the Lizard" and "Stories Told Under the Sycamore Tree" by Sam Hahn.

---